"An education capable of saving humanity is no small undertaking; it involves the spiritual development of man, the enhancement of his value as an individual, and the preparation of young people to understand the times in which they live."
—Maria Montessori
Check out the AP Store! Students have been working hard to provide you with a wonderful shopping experience!
MRS. RUNNINGEN (English Language Arts)
Having lived in Southeast Minnesota all my life, I am thrilled to be a part of the La Crescent Montessori & STEM School staff! I earned my degree in Communication Arts and Literature from Winona State University in 2003, licensed to teach grades 5–12. For 15 years I worked for small businesses in the realm of financial services, water/fire damage restoration, and IT. My career focus was on customer service, marketing, communication, and efficiency.
In the fall of 2018, I found my way back to my true calling: to teach teenagers the beauty of literature, the art of writing, and the vast sea of perspectives to explore on Earth. My time in business has also given me the experience to prepare students for the real world. My passion for Montessori philosophy started in 2012 when the first of my three children started at LMSS. As a parent, I have enjoyed volunteering in classrooms from Children's House up to E2. My other interests include gardening, yoga, and connecting with family and friends.
LUKE WAHL (Mathematics)
I earned my degree in Mathematics Education with a Computer Science Education Emphasis from the University of Wisconsin, La Crosse in December 2015. I am licensed to teach middle and high school math in Wisconsin and Minnesota, and I taught Math, Science, and Computer at St. Peter's School in Hokah for 2 years. I first learned of my passion for teaching as a camp counselor. In addition to being a teacher and a counselor, I have been a custodian and a tutor, and I have worked in customer service, a paper mill, and a cafeteria. I have worked basically everywhere under the sun, but where someone works is just a small part of who they are. I grew up in Appleton, Wisconsin, moved to La Crosse in 2010, and crossed the river into Hokah in 2015. I love cooking strange but healthy foods, nature photography, working out, gardening, and playing with cats.
I am immensely excited to be a part of the team at LMSS. This is an amazing school with awesome teachers and some pretty cool kids. At this school, I look forward to helping students explore how math is connected to other subjects, to the universe, and to themselves. I also want to have a classroom focus on STEM and the environment. Most importantly, I am excited to work with these students and help them to build on their mathematic foundations and gain an even greater understanding of the subject and an appreciation for it.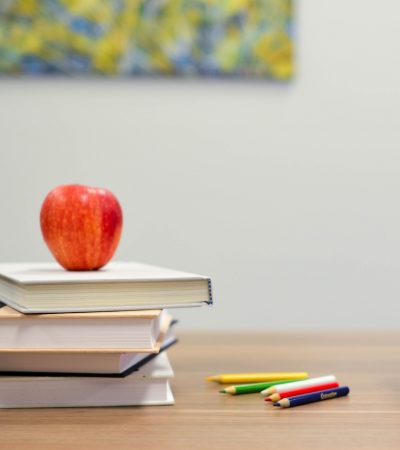 MRS C (Science)
I graduated with a degree in Education with a minor in Psychology in 2002 and have been teaching in some capacity since then. I have 19 years of experience teaching in public schools in the southern states. I moved to Wisconsin 4 years ago where I pursued educating adults as a parent educator and as a wellness and recovery coach with a counseling organization. My passions are helping others to see their potential and providing tools to help them reach that potential (which is always expanding). I am excited to have the opportunity to work in an environment where everyone has the same mission- to help others set goals and walk beside them to facilitate meeting those goals. The never-ending Journey of Learning has sharp rocks, soft sand, vines of kudzu, elaborate gardens, steep mountains, open plains, and so much more. I am honored our paths have crossed and I get to join you on this hike!
MISS HANNAH (Social Science)
After moving back to the La Crosse area in the summer of 2021, I am very excited to work with the LMSS AP team!
I am originally from Trempealeau, Wisconsin, and received my Social Studies History Teaching degree from Winona State in December 2014. After graduation, I moved to the Twin Cities metro area and spent about a year and a half substitute teaching in several districts. From 2016-2021 I worked as a middle school geography teacher for Farmington Area Public Schools where I focused on personalized learning and building relationships with learners, staff, and parents. I am very interested in growing my teaching practice and learning more about the Montessori method of education.
Outside of teaching, my work experience includes being a tutor for pre-k through high school in math, reading, and writing, Girl Scout camp counselor, and tour guide for the Dakota County Historical Society. I love traveling, reading, good food, and learning about gardening.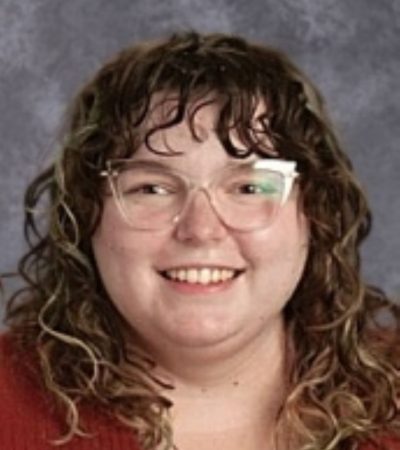 What Makes Us Different?
Our students study and work to prepare themselves for adulthood. Many traditional middle and high school programs work quickly to cover a variety of standards, courses, and skills while attempting to make education equal for all students. Students move through their schedules at the sound of bells, spending sometimes as little as 45 minutes in each of their various courses, making this style efficient and organized. However, Dr. Montessori's work argues that this fast-paced, traditional style can deter a student's natural growth and innate love of learning. In contrast to traditional models for education, Montessori adolescent programs take a holistic approach to education. We do this by preparing an environment that supports the adolescent's physical, psychological, and intellectual development.
The Prepared Environment
High structure and low authority sets high expectations while still allowing for individuality
Mixed-age classrooms where students can choose work based on individual interests and skills and learn the importance of community
Motivation comes from the value of their work, not rewards
Opportunities for social organization and experiences in production and exchange
Large, uninterrupted work periods for the adolescent to explore individual interests and skills
Multiple channels for self-expression, which act as a means for developing personality during a time of turbulence
Freedom to practice adult work through career exploration, occupations, governance, and other elements of social life
The Prepared Adult
Shows respect and love of the adolescent and their growth
Works side-by-side with the adolescent to accomplish goals and explore topics
Approaches all work with a deep appreciation and understanding of developmental psychology
Typical Day in Adolescent Program
Click on the times below to learn more about what happens during that period of time.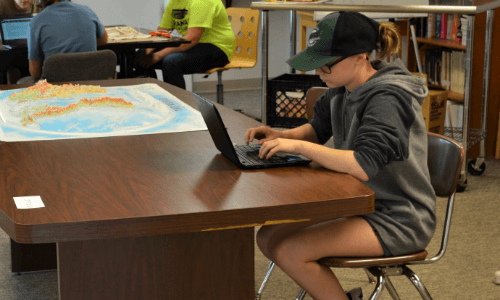 "All work is noble, the only ignoble thing is to live without working."
—Maria Montessori, From Childhood to Adolescence
CURRICULUM
"There is a need to realize the value of work in all its forms, whether manual or intellectual… Education should therefore include the two forms of work, manual and intellectual, for the same person, and thus make it understood by practical experience that these two kinds complete each other and are equally essential to a civilized existence."
—Maria Montessori, From Childhood to Adolescence
Between the ages of 12 and 18 the adolescent works to construct their personality and find their individual values within the collective and prepare for adulthood. As an adult, we need confidence in our capabilities, an appreciation of community, the ability to care for ourselves, others, and the environment, and skills that allow us to adapt to a constantly changing world.
Our work in the classroom at LMSS supports these goals, and our curriculum follows the interests of the child while providing the structure necessary for the adolescent to elevate their work. Through the holistic exploration of society, our students engage in authentic work and community.
We use the following values to assess engagement in our community:
Respect – Self-respect, respect for others, tolerance, honesty, integrity, and responsibility.
Compassion – Concern for one another, for humanity, kindness, peacefulness, understanding, acceptance, and warmth.
Love of Learning – Discovery, exploration, working together, curiosity, and ownership.
Service – A lifelong commitment to give something back through service to others who are in need.
Independence – Doing for oneself, understanding one's own capabilities.
Interdependence – Responsibility to and healthy dependence upon one another, a love of community.
Excellence – Quality in all that we do to serve the children and the cultivation of the pursuit of excellence within our students.
Universal Understanding – A global perspective and an understanding of being part of something bigger than oneself.
Mixed-age Classroom
Our mixed-classroom setting creates mentorship and leadership opportunities between older and younger students. This allows for diverse learning and strong peer collaboration. Students are together as a community for daily meetings and smaller interim classes and self-expressions.
"Successive levels of education must correspond to the successive personalities of the child. Our methods are oriented not to any pre-established principles but rather to the inherent characteristics of the different ages. It follows that these characteristics themselves include several levels."
—Maria Montessori, From Childhood to Adolescence
Great Work Periods
Students in the Adolescent Program are provided with several uninterrupted work periods throughout the week. During these times, students receive lessons and are given the opportunity to work on individual and group projects. This schedule allows for deeper uninterrupted work in subject areas along with a continuity of learning.
"The characters of all children change in this environment where they can work without being disturbed, and they become calm and able to concentrate."
—Maria Montessori, Education and Peace

Interim Sessions
Each year, there will be six interim sessions, lasting between 2–3 weeks each. These sessions allow students to select a course based on their interest and minimum credit requirements. Examples of interim courses offered in the past include: Drone Piloting, Developmental Psychology, Comedy Writing, Skeletal Anatomy, and Japanese Cooking.
"[In the educational syllabus] . . . there would be all kinds of artistic occupations open to free choice both as to the time and nature of the work."
—Maria Montessori, From Childhood to Adolescence
Occupations
Between ages 12–15, the adolescent steps away from a desire for intellectual work and craves concrete work; it is especially important for the student to work with their hands within a system of production and exchange during this time. Occupations are work that engages the student in that system. At LMSS, we integrate our academic work with occupations to provide students the opportunity to independence and interdependence in society.
"This is a delicate age . . . an age of doubts and hesitations, of violent emotions, of discouragement."
—Maria Montessori, From Childhood to Adolescence
Self-expression
Adolescence is a time of great turmoil, physically and psychologically, and the adolescent is often unsure of who they are. To support the development of their personalities, our classroom provides regular opportunities for the adolescent to express themselves through music, art, language, and movement. These self-expressions may take place in the presentation of a project, weekly elective courses, and/or interim sessions.
"The opening up of ways of expression, which through exercises and external aids will help the difficult development of the personality."
—Maria Montessori, From Childhood to Adolescence
Youth Outing Explorations
Adolescents have an innate need to orient themselves with the outside world and their community. Youth Outing Explorations are an opportunity to learn the rules and responsibilities of adulthood in order to be a contributing member of society. Students have the opportunity to practice these skills repeatedly in their time at LMSS by taking several camping, hiking and canoe trips, working alongside foresters with the Army Corps of Engineers, and participating in Montessori Model United Nations, to name a few.
"At this time, the studies ought to be directed toward humanity, toward human life . . . the feeling of society, which ought to contribute to more understanding among men."
—Maria Montessori, From Childhood to Adolescence
Career Exploration
Our overarching goal in the Adolescent Program is to prepare students for life beyond high school. The yearly accumulation of this goal is Career Exploration, a week-long session each spring where students choose a business or organization that aligns with their interests and independently coordinates an unpaid internship. This immersion into the complexities and excitement of the real world provides essential information to guide their career planning.
Previous Career Exploration sites include:
WXOW News Channel 19
Winona Public Library
Army Corps of Engineers
The National Weather Service
Thorson Graphics
SEMVA Art Gallery
"It is necessary that the human personality should be prepared for the unforeseen . . . . Nor should it be strictly conditioned by one rigid specialization, but should develop at the same time the power of adapting itself quickly and easily . . . . Adaptability—this is the most essential quality; for the progress of the world is continually opening new careers, and at the same time closing or revolutionizing the traditional types of employment."
—Maria Montessori, From Childhood to Adolescence
Postsecondary Enrollment Options
Postsecondary Enrollment Options (PSEO) is a program that allows 10th-, 11th- and 12th-grade students to earn both high school and college credit while still in high school, through enrollment in and successful completion of college nonsectarian courses at eligible participating postsecondary institutions. Most PSEO courses are offered on the campus of the postsecondary institution; some courses are offered online. Each participating college or university sets its own admissions requirements for enrollment into the PSEO courses. Eleventh and 12th-grade students may take PSEO courses on a full- or part-time basis; 10th graders are eligible to enroll in PSEO on a more limited basis (see note below). Students must meet the PSEO residency and eligibility requirements and abide by participation limits specified in Minnesota Statutes, section 124D.09. If a school district determines a pupil is not on track to graduate, she/he may continue to participate in PSEO on a term by term basis.
By March 1 of each year, or three weeks prior to the date a student registers for courses for the following school year, schools must provide PSEO information to all students in grades 8-11 and their families. To assist the district in planning, a student must inform the district by May 30 of each year of their intent to enroll in postsecondary courses during the following school year.
There is no charge to PSEO students for tuition, books or fees for items that are required to participate in a course; however, students may incur fees for equipment that becomes their property when the course or program is completed, textbooks that are not returned to the postsecondary institution according to their policies, or for tuition costs if they do not notify the district by May 30 and the district does not waive this date requirement.
Funds are available to help pay transportation expenses for qualifying students to participate in PSEO courses on college campuses. For more information on these funds, access the PSEO Mileage Reimbursement Program Instructions.
Enrolling in a PSEO course does not prohibit a student from participating in activities sponsored by the high school.
School districts must allow a PSEO student reasonable access to the high school building, computers and/or other technology resources during regular school hours to participate in PSEO courses, whether on-line or on campus.
Each year, districts must publish their grade-weighting policy on their website, including a list of courses for which students can earn weighted grades.
All courses taken through the PSEO program must meet graduation requirements. Districts must transcript credits earned in PSEO by a ratio prescribed in statute. Districts have the authority to decide which subject area and standards the PSEO course meets. If there is a dispute between the district and the student regarding the number of credits granted for a particular course, the student may appeal the board's decision to the commissioner. The commissioner's decision regarding the number of credits will be final.
Postsecondary institutions are required to allow PSEO students to enroll in online courses consistent with the institution's policy regarding postsecondary student enrollment in online courses.
Tenth-grade students may initially enroll in one Career and Technical Education (CTE) PSEO course if they receive a reading proficiency score of "meets" or "exceeds" on the 8th grade MCA. If 10th graders taking a CTE PSEO course earn at least a grade C in that class, they may take additional CTE PSEO courses. If the student did not take the MCA in 8th-grade, another reading assessment accepted by the enrolling postsecondary institution can be substituted. For students with disabilities, there is an alternative option to demonstrate reading proficiency.
For current information about the PSEO program, visit the Minnesota Department of Education's Postsecondary Enrollment Options (PSEO) webpage.
ADMISSIONS
Joyful scholars.
LMSS is a public charter school providing tuition-free education for grades K-12 school children. We welcome Wisconsin residents! If this is your family, please call our office for the current tuition rate.
Hours M–F: 8 a.m.–3 p.m. (there is early release at 2:15 p.m. on Wednesdays)
LMSS provides a full range of world class experiences. We encourage our families to remain enrolled throughout the breadth of each mixed-grade classroom.