LA CRESCENT MONTESSORI & STEM SCHOOL
We develop self-assured, lifelong learners who are compassionate, globally minded, and empowered to positively impact the world.
Welcome to LMSS!
We're so glad you're visiting our website. On this page you'll find more information about our school's history and some of the main features you'll find at La Crescent Montessori & STEM School.
You'll also find a directory of all our staff and teachers, with links to individual classroom pages so that you can learn more about what happens in each class. There are links to contact info to help you get in touch with teachers.
We have listed our board of directors for easy reference, along with a list of links to:
Meeting agendas and minutes
School policies
Annual reports
Committees
Can't find what you're looking for? Be in touch by phone or email—we're happy to help!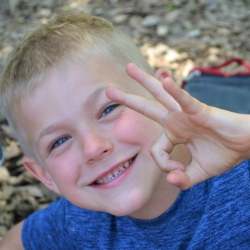 "My favorite part of LMSS is having my kids beam while explaining or showing off their works, and performing for school events."
—Parent of an LMSS student
Our History
Built from community passion.
La Crescent Montessori & STEM School was founded by a group of interested parents who wanted an all day Montessori school option in the La Crescent area for their children. The school became a Minnesota public charter school in August, 1999. LMSS began with two classrooms in a brand-new building: Children's House and Elementary I.
In 2003, the Middle School and High School was added to the charter. The focus of these upper grades is STEM education with the underlying foundation of a Montessori education. Earth Science, engineering along with contextualized math, are at the forefront of this curriculum. LMSS uses Project Lead The Way curriculum to enhance this experience.
In the summer of 2011, we made the exciting move to our current location. Many of us still remember when this building was the skating rink. We are lucky enough to have the beautiful wood floors still in use. Our first senior graduation ceremony was held in 2015. Today, we continue to promote compassionate and globally minded students through the use of Montessori practices and STEM experiments. Call us today to set up a tour and see for yourself!
About the School
Popular education for your child.
La Crescent Montessori & STEM School does not discriminate on the basis of race, color, creed, religion, national origin, sex, age, marital status, status with regard to public assistance, sexual orientation, or disability in its programs and activities.
Montessori Method at LMSS
The primary goal of a Montessori program is to help each child reach their full potential in all areas of life. Activities promote the development of social skills, emotional growth, and physical coordination as well as cognitive preparation. The holistic curriculum, under the direction of a specially prepared teacher, allows the child to experience the joy of learning, time to enjoy the process and insure the development of self-esteem, and provides the experiences from which children create their knowledge.
Montessori trained educators at LMSS prepare authentic Montessori environments to engage each child and to nurture and support students in their quest for learning and growing. Our staff know that education is not what the teacher gives, but rather a natural process carried out by the individual- acquired not by listening to words, but by experiences upon the environment.
COMMUNITY SERVICE
From the youngest of students, to the oldest, all LMSS students are provided with the opportunity to engage with the local and global community through service. We teach all students that they can make a difference in the world by starting right outside our own doors. Whether it is raking leaves for our elderly neighbor, or raising funds to help build wells in Puerto Rico after a devastating earthquake, we are all able to work together to make the future of the world brighter.
LEADERSHIP
It is important for students to know how to work within groups, as well as how to lead groups. Students at LMSS have many opportunities to develop their leadership skills both in and out of the classroom. "Never do for a child what the child can do for themselves" is a quote by Dr. Maria Montessori, and LMSS staff strive to adhere to that concept. When we do the work of the child for them, they lose the ability to think and do for themselves.
ENVIRONMENTAL EDUCATION
Dr. Montessori emphasized the interconnectedness of humanity and nature throughout her work and proposes that immersion in nature assists in the development of the whole child. Environmental education at LMSS is based on developing ecological literacy in our students. Nature experiences, activities, and studies are structured to correspond to the needs and abilities of students at each learning level.
LEARN MORE ABOUT LMSS
Give us a call or send an email. We'll be happy to answer any questions you have!
STAFF
Click on images below to read staff bios and learn more about their classrooms.
Head of School
Greetings! I am so excited to be on this new adventure with LMSS. Prior to moving to the Interim Head of School position, I worked as the Adolescent Program Social Studies teacher for four years. Working in administration was always a dream of mine, 
BOARD OF DIRECTORS
Below you will find our board of directors. Click on their names to send them an email.
August 18, 2022
September 15, 2022
October 19, 2022 *4:15 pm
November 17, 2022
December 15, 2022
January 19, 2023
February 16, 2023
March 16, 2023
April 20, 2023
May 18, 2023
June 15, 2023
July 20, 2023
The above Board Meetings have been scheduled for the 2021-22 academic year. All meetings will be held at 3:30 p.m. at the school unless otherwise noted. Committee Meeting dates, times and member information can be found when you click the 'Committee' button below.