WELCOME TO LA CRESCENT MONTESSORI & STEM SCHOOL!
We are a community committed to developing self-assured, lifelong learners who are compassionate, globally minded, and empowered to positively impact the world.
We offer a unique Montessori education that promotes curiosity, inquiry, and engagement for children ages 3 through twelfth grade. STEM and environmental education are integrated and interdisciplinary learning experiences foster independence, self-assurance, collaboration, and connections to the global community.
Along with a deep, rich, academic curriculum, we value collaboration, effective conflict resolution, cultural awareness, and teaching respect for each other and the environment. We use community as an extension of our indoor classrooms for learning, exploration, community service, and play.
We invite you to become active participants in our learning community and applaud your commitment to your child's education.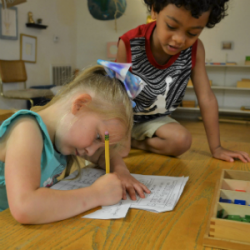 "Thank you [teachers] for letting us know you too are finding growth. It's reassuring to discover my child is proving he is blossoming into a strong, self-reliant individual. While, I am sure you and the rest of the Montessori staff don't hear this often but, all of you are just as responsible for the individual my child is becoming as me and his mother. It has taken all of us, pushing and caring about him that has made him who he is, and I thank you all for that."
—Parent of an LMSS student
CLASSROOMS
Learn how our carefully prepared environments naturally support the child's unique needs at each level of development.
GET INVOLVED!
We're always looking for family members to get involved at LMSS, either through joining a committee or volunteering.
RESOURCES
Tools for the journey. Facts at your fingertips.
CALENDARS
Looking for an overview of the days school is in session this year? Click here to access a printable version the approved school calendar.
If you use Google calendar, click on this link. You can add our events to your calendar by subscribing: Click on the link to go to the Google calendar; click "Add" when prompted.
Each district must publish testing dates for state assessments on their website. Please follow this link to view our assessment dates for this year.
CLASSROOM TOOLS