Welcome!
We're glad you're visiting our website. On this page you can learn more about admission for our two programs (Preschool and K–12 School), the admissions process, and the application. If you want to learn more about how we put Montessori into practice, you can read about it here, along with our philosophy and approach.
About La Crescent Montessori & STEM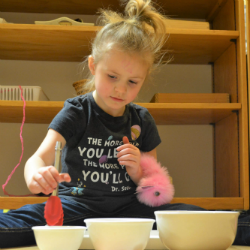 "My kids love coming to school every morning. They light up when it is time to go to class."
—Parent of an LMSS student
PRESCHOOL AT LMSS
Busy hands, growing minds.
Preschool at LMSS is integrated with the Children's House classroom, though we do charge tuition for it. The preschool calendar follows the LMSS school calendar. Families can choose between full time and part time options for preschool. A tuition fee schedule will be provided to you with the enrollment packet. You can learn more about Children's House here.
Part-time M–F: 8 a.m.–12 p.m.
Full-time M–F: 8 a.m.–3 p.m. (there is early release on Wednesdays)
Tuition Part-time: $300/month; Full-time: $475/month
Because we want all students to benefit from a full-time Montessori program option, LMSS offers a discounted tuition to full-time participants. Parents can provide 25 hours of volunteer time to the school, and have 50% of the tuition fee waived.
K–12 AT LMSS
Joyful scholars.
LMSS is a public charter school providing tuition-free education for grades K–12 school children. You can learn more about our individual classrooms by clicking on the links below:
Children's House: Kindergarten*
Adolescent Program: Grades 7–12
Class begins at 8 a.m., and students are released at 2:55 p.m. Early release is scheduled every Wednesday at 2:15 p.m. A calendar can be found here. If you are a Wisconsin resident, please call the office for the current tuition pricing available.
*Preschool is integrated into Children's House, though the admissions process is separate as tuition is charged for preschool.
ADMISSION PROCESS
An education as unique as your child!
1
Contact
Set up a tour by calling us at 507-895-4054 or emailing SWehman@LaCrescentMontessori.com. You will be given a personalized tour of the whole school, while receiving specific information regarding the class your child will be in at LMSS.
2
Apply
Once you have decided to enroll your child at LMSS, you may fill out and submit the enrollment application. This will allow LMSS to review enrollment numbers and determine if space is available for your child. Lottery is held February 1st.
3
Enroll
After the application has been accepted, a full enrollment packet will need to be submitted to the LMSS office. This packet includes detailed information about your child so we can provide the safe and appropriate environment they deserve.
4
Prepare
Receive and review the class specific school supplies list. Purchase any items that you may not already have. Contact us if you have any questions about individual items, or if you are struggling to purchase all of the necessary supplies.
PRE-APPLICATION QUESTONS?
We're happy to connect with you to answer any questions you have!
APPLICATION
We're happy to see you here! You're one step closer to admission.
Printable Application
Enrollment Policies
La Crescent Montessori & STEM School does not discriminate on the basis of race, color, creed, religion, national origin, sex, age, marital status, status with regard to public assistance, sexual orientation, or disability in its programs and activities.
Brief History of the School
La Crescent Montessori & STEM School was founded by a group of interested parents who wanted an all day Montessori school option in the La Crescent area for their children. The school became a Minnesota public charter school in August, 1999. LMSS began with two classrooms in a brand-new building: Children's House and Elementary I.
In 2003, the Middle School and High School was added to the charter. The focus of these upper grades is STEM education with the underlying foundation of a Montessori education. Earth Science, engineering along with contextualized math, are at the forefront of this curriculum. LMSS uses Project Lead The Way curriculum to enhance this experience.
In the summer of 2011, we made the exciting move to our current location. Many of us still remember when this building was the skating rink. We are lucky enough to have the beautiful wood floors still in use. Our first senior graduation ceremony was held in 2015. Today, we continue to promote compassionate and globally minded students through the use of Montessori practices and STEM experiments. Call us today to set up a tour and see for yourself!